Just a few words about the Chicago Zine Fest I kind of went to but didn't:
Chicago is awesome. I can't get over it. I spent two and a half days there and thoroughly enjoyed myself.
Zinesters are the most interesting bunch of people you could ever meet.
I managed to give out 12/30 of my zines to people I doubt I will ever see again, and I'm almost jumping with joy because of that. And I managed to do that without making it to the actual zine fest on Saturday, but instead to the awesome after party.
There were five more people than I expected (expectation: 0) who walked dogs for a living and had a serious passion for it.
Kuma's Corner is totally worth an hour and a half wait.
Getting lost in Chicago strengthen's your knowledge of the public transportation system.
Google Maps lies to you and smiles about it.
Sometimes, bars play Adult Swim TV shows (read: Robot Chicken) on their big screens which means they get a better tip.
I came across this on Reddit earlier today. Wanted to share with those who appreciate very well drawn/painted art... and zombies.
Click the image for the full size (1400x805) and click here for more art by Jason Chan.
On Sunday, I was at my parents' house to grab dinner and say hi. It was the Super Bowl and I really couldn't have cared less.
If you haven't been keeping up, I just recently moved into a trailer in Allendale. I had moved a lot of my stuff from my parents' house but not 100% of it was gone. So! I was at my parents house, eating and chatting when Brian and Katherine (who were with me) decided it was time to go and we started packing some of the random stuff (including a sofa and a desk chair) into my mom's van to drive to my new place.
Just as I was leaving, my brother called to me from his laptop, "Hey, you can take my Xbox if you want. I don't ever play it."
My jaw dropped.
An Xbox 360?! From my brother?! What in the hell!?
Yeah. After some discussion and my gaining assurance that he wanted to give it away, I packed up his Xbox360--with COD Modern Warfare 2, Gears of War, and Marvel Ultimate Alliance.
So. I have an Xbox 360 (and a small couch) at my trailer now. I'm borrowing Jeff's copy of Fable 2 and I think Nick is going to lend me his GTA IV. Hell. Yes.
Any ideas for cheap Xbox/Xbox 360 games?
So, I haven't updated in like 3 months.. yeah.
I felt the urge to spread the tale of awesomeness tonight that I had.
It all began with my new found buddy Brian offering to Jared and myself to go out to an "Ugly Sweater Party" hosted by some people he knew from his work. I agreed, as the idea of such a party made me laugh a bit. So! After Jared and I bought some seriously 90s prep-looking sweaters from Goodwill, we proceeded to get picked up by Brian and head for this party donned in our sweaters. Mind you, it was a good 80 degrees out today, so wearing these sweaters was a serious task for us. Anyways, we get to the party and have a good ol' time with the 15 or so people there and at some point later on we ended up talking in Scottish accents. Jared, Brian and I were just going at it non-stop. So, we end up taking off from the party around 1:30am to get some IHOP--as we were ALL in the mood for something to eat. Oh and we got semi-lost/confused on the highways coming from dropping off Brian's friend Erica, but we made our way to IHOP eventually.
We carry on the Scottish (Irish for Jared) accents into IHOP and sit down and take our orders and the waitress honestly believed us to be from 'across the pond.' She kept asking us simple questions about why we were here in Michigan and how it's been since we got here and all that jazz. It was a serious riot. But of course, to keep ourselves into the mood, we kept speaking in the accents while the waitress was away making sure the other customers believed us as well. We made up a story about Jared's uncle Brenden who was a real party animal and how he was in jail for some reason and Jared kept getting snobbish because 'we knew damn well why his uncle was in prison and how we shouldn't speak of it any more' trying to play off being ashamed. Brian and I played it as if we were cousin's and how Brian could drive whereas I couldn't because I didn't want to take the damn driving test here dispite my being here in the US for a year and a half. We kept our composure for about 45 minutes and didn't laugh or break character for a second. It was flipping fantastic.
So my night ended in serious talk in Scottish accents and badassery. How about that?
With my iPhone woes (mainly that I have/had shitty signal at my house), I updated my iPhone to firmware 2.1 and boy has there been some significant changes:
The UI is much faster, the keyboard rarely--if ever--lagging and I've noticed that most applications load much faster and are way less lagging. Plus, my signal strength is a lot (I'm talking 2-3 bars worth) better. Overall, it's a significant improvement and I haven't found anything to complain about.
But one thing I noticed that was really cool was the viewing of multiple albums at a time. As shown in my  picture, you can see I was listening to a bunch of Girl Talk and as I was viewing all of the songs by Girl Talk each song has the album then the artist underneath it. I don't know why, but I think this is awesome (especially for someone like me who might just make a random playlist of songs or maybe for those using the new Genius playlist). This same type of thing happens in a playlist (see the link at the end of the post).
Just wanted to contribute to the massive amounts of rants and raves for the 2.1 software.
So yesterday I went and bought Astonishing X-Men #25 at my local comic shop. I bought it on my lunch break and didn't have any time to read it yesterday, but this morning on the bus ride to work I managed to squeeze it in. Let me just say (before the jump) that Warren Ellis is amazing and he beats Joss Whedon any fucking day on Astonishing X-Men.
On the right here is a clip from the first page… we see Armor using Twitter. Hell yes Warren Ellis.
**spoilers after the break**
Guess what guys? Guess effing what? Astonishing X-Men #25 is coming out this week (7/2/2008), and guess who's excited?
ME!
Seriously. And you want to know why I'm so excited? Well, let me answer just one more question for you: Because Joss Whedon is no long writing this series. Hell yes! Yea! Yea! Yea! I'm beyond excited and it's because without Joss Whedon, this comic book will (probably) come out on a regular basis and with some sweet storylines because the one and only Warren Ellis taking over meaning that Armor, Beast, Cyclops, Emma Frost, Storm, and Wolverine (the line-up according to cover for this issue) are in for a friggin' show for sure.
The amazing Warren Ellis, author of Transmetropolitan, Newuniversal/Newuniversal: Shockfront, and the Extremis arc of Iron Man, is going to be writing Astonishing X-Men and I can only hope for nothing less than an outstanding series with him backing it. The new series titled Astonishing X-Men: Second Stage. It's supposed to be back in the continuity and I couldn't be happier.
**spoilers after the break**
This weekend was pretty much 100% bad ass: I attended an Alkaline Trio concert, had the privilege of going to Wizard World Chicago and meeting Brian Michael Bendis (the whole reason for going to the ordeal) along with doing some other awesome stuff throughout the whole convention, and I saw Wall-E with Dallas.
Sweet right? Well, let me elaborate:
Friday:
I worked my normal schedule until 5pm and met a friend of mine to head to Yesterdog. One hot dog was all I needed from that landmark place in Grand Rapids to be ready to go see The Alkaline Trio. Come 7pm, we were let in the doors of the show and stood around for about a half an hour just goofing around until The Fashion made their way to the stage. They were a psudo-pop-punk band with a strange techno feel that was neither good nor bad, but still a listen. They played a 35-minute set and took off leading straight into the band Bayside. They too had an iffy sound, something along the lines of pop-punk, but a tad slower. My friend Tori was very into them, yet they didn't really hit for me (like a lot of pop-punk bands usually do, if only for a moment). They finished their 45-minute set and after a very boring 35 minute wait, The Alkaline Trio made their way to the stage. Let me tell you, it was fucking incredible. Song after song of perfection and amazing Alkaline Trio-goodness ensued for a little over an hour. They played songs from their last two albums, Crimson, Good Mourning (more notably: "This Could Be Love", "Mercy Me", "Time To Waste" and "This Could Be Love"), a few new songs from their album  and finished their encore with "Radio" from their album Maybe I'll Catch Fire. For any Alkaline Trio, such as myself, it was seriously amazing (especially "This Could Be Love." Boy do I love that song).
Despite being tired, I ended up staying up until 2:30am talking about comics with my buddy Jeff Lanning once I got back from the concert.
Just yesterday I blogged about how I thought Marvel 1985 #2 was going to be straight up amazing and boy was I right. Mark Millar is basically taking the 1980s view on comics and printing it frame by frame and word by word in these comics. I seriously love this kind of stuff (see also: Kick-Ass), yet I can't say anything until after the jump, but man-oh-man issue #2 was damn amazing.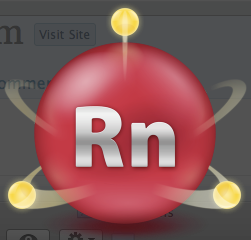 Got word on a new browser from someone on twitter... I don't follow them, but Dallas does and I happened to glance at her computer as she was on Twitter and saw he/she mentioned it... so sorry for not giving credit...
Nevertheless, Radon is a Mac-only browser from Tominated Software and let me tell you: it's pretty cool.
I'm using the browser now and it's pretty sweet. Everything I need loads: GMail (HTML view only :( ), Google Reader, Google Calendar (talk about amazing), Demonoid, IMDB, Wikipedia, Google. But the real  awesome part of this browser is that it's über fast. SUPER fast. Awesome fast. I'm talking faster than any browser you put it against. And really, it loads images quickly, Javascript and everything your average user would need.
Except Flash. 
There is no flash support in this browser at all. And for me, that's a small problem. I read sites like io9, Lifehacker, Gizmodo, TUAW and all sorts of other blogs/news sites and what sucks is that a lot of the time, these sites feature a video on YouTube or Vimeo or some other flash-video site and, what do you know, it doesn't load in this browser. Let me also mention, there is no tab support (a kind of must for me, but I can deal), no password manager, no ability to upload(like in a form) /or ownload files via HTTP (I'll explain in a second) and no bookmarks.. at all. It's pretty damn basic, but all for the speed. 
But that aside, Radon owns kicks ass. Like, I seriously dig it. I'll probably be using it a lot in the future and I'm glad I found out about it. I can live without Flash and if I absolutely NEED it I can pop open Firefox/Safari and hit whatever video I need.
As I said, there is no HTTP downloader, BUT you can still download files. There is an extra add-on built in called Krypton that lets you download files if you hit the file (which will look like jarbled junk) you can download by using Krypton and things will simply download OR you can provide a url and Krypton will download it. Annoying? yes, but it's all for the speed (and it's an independent browser)
Also, there is an add-on built in called Techtanium that creates a mini browser window and, for some reason, searches JUST YouTube... but you can't watch the video... I couldn't really figure out the use for this. I'll make sure to blog again in the future if I figure things out. It could be for future improvements(?).
For now, I'll be using Radon exclusively until I run into some unforseen problem. And really going from Radon to Firefox, you can see how heavy of a browser Firefox really is... Also, I'll wait for the official Firefox 3 and see what's what.