This is an issue that haunts people day and night: What To-Do list application should I use?
If you know anything about me, I am the type of person who gets things done typically in order of mental priority. It's a bit of a burden. So! Last night while laying in bed, I decided that when I woke up I needed to find a good To-Do app of some kind to keep my mind focused on tasks I may have and to make sure I remember the shit I need to do.
My options based on 20 minutes of research are these:
To-Do for the iPhone

This seems like a pretty sweet application with many uses, but $10? That's a little rough.

Google Tasks on the iPhone

I had no idea this existed, and the benefit is that it would sync to my GMail account so I could access this stuff all over--seeing that I use every aspect of Google that I can.
The only issue I have with this option is that it runs through the iPhone's browser and isn't it's own app which makes it a tad annoying.

Pen & Paper agenda

I'm talking about using a small agenda that I carry around 24/7 to keep track of everything.
In all honesty, this seems like my best choice.
My decision is pretty much made, but if anyone has any better suggestions I'd like to hear them. I hate having a terrible memory...
It's December 30, 2009.
At 7:58am.
I've only been up since 7pm yesterday. Should I sleep? Maybe. We'll see.
Anyways.
This year's been a good one I'd say. I've had some fuck ups, some mistakes and some misfortunes. I've had some awesome times, made new friends, and have smiled more than I have in a long, long while. Lots of shit has gone down.
What to say for the first decade of the millennium? Not too shabby. I'm apart of that generation who came from 28K internet to 2Mbs internet. We've seen the birth of mass video streaming (ie. YouTube) and Twitter and MySpace. Comic books almost died and somehow made their way back to being amazing. We grew up with BitTorrent and the smart phone. We've created a new style and form of speak (I'm talking about 1337 and lol's and such). We've made phone conversation's pointless. We made being smart a cool thing and being geeky a thing of fashion. We made Digg and Facebook and Reddit and Twitter the way to get news. We made Google. We made LOLcats. We made 4chan. We made Photoshop a regular thing. We made sci-fi even cooler than it already was. We turned the year long trend into the week long trend. We made over communication a daily routine. We made the music industry cry and distributed petabytes of information in the blink of an eye. We've done this and more than I can think of, yet we've only just begun to grow up. It's been a crazy 10 years to say the least*.
Me personally... well, I'll say this decade has had it's fun. More than I can remember and some I'd like to forget. Next year only brings more complicated and fantastic parts of life: growing up, prospects of graduating college, being with my (new and fantastic) girlfriend, Katherine, more D&D, more comic books, more hobbies and habits and emotions. We'll see how it goes.
As I do every year since, well, probably 2005 or so, I don't plan on setting resolutions. I feel no need to. There's no sense in setting goals for the year to come that will most likely not flourish. I'll set them as they come as I always do.
I can hope though.
I can hope for a dream job, good times with friends, good drinks and stories and jokes. For survival and laughs. For good thinking and good travel. For good fortune and good luck. I can hope for all sorts of things, and I will every day.
But all and all, 2009 was a good year. I tip my hat to it and to the rest of the first decade of the millennium. It's been fun.
* yes everything there is nerdy/tech related but that's me and that's what I know...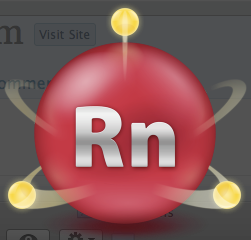 Got word on a new browser from someone on twitter... I don't follow them, but Dallas does and I happened to glance at her computer as she was on Twitter and saw he/she mentioned it... so sorry for not giving credit...
Nevertheless, Radon is a Mac-only browser from Tominated Software and let me tell you: it's pretty cool.
I'm using the browser now and it's pretty sweet. Everything I need loads: GMail (HTML view only :( ), Google Reader, Google Calendar (talk about amazing), Demonoid, IMDB, Wikipedia, Google. But the real  awesome part of this browser is that it's über fast. SUPER fast. Awesome fast. I'm talking faster than any browser you put it against. And really, it loads images quickly, Javascript and everything your average user would need.
Except Flash. 
There is no flash support in this browser at all. And for me, that's a small problem. I read sites like io9, Lifehacker, Gizmodo, TUAW and all sorts of other blogs/news sites and what sucks is that a lot of the time, these sites feature a video on YouTube or Vimeo or some other flash-video site and, what do you know, it doesn't load in this browser. Let me also mention, there is no tab support (a kind of must for me, but I can deal), no password manager, no ability to upload(like in a form) /or ownload files via HTTP (I'll explain in a second) and no bookmarks.. at all. It's pretty damn basic, but all for the speed. 
But that aside, Radon owns kicks ass. Like, I seriously dig it. I'll probably be using it a lot in the future and I'm glad I found out about it. I can live without Flash and if I absolutely NEED it I can pop open Firefox/Safari and hit whatever video I need.
As I said, there is no HTTP downloader, BUT you can still download files. There is an extra add-on built in called Krypton that lets you download files if you hit the file (which will look like jarbled junk) you can download by using Krypton and things will simply download OR you can provide a url and Krypton will download it. Annoying? yes, but it's all for the speed (and it's an independent browser)
Also, there is an add-on built in called Techtanium that creates a mini browser window and, for some reason, searches JUST YouTube... but you can't watch the video... I couldn't really figure out the use for this. I'll make sure to blog again in the future if I figure things out. It could be for future improvements(?).
For now, I'll be using Radon exclusively until I run into some unforseen problem. And really going from Radon to Firefox, you can see how heavy of a browser Firefox really is... Also, I'll wait for the official Firefox 3 and see what's what.
If you're a web somewhat familiar with the internet, I'm sure you read blogs and news web sites and all that jazz. If you're a web geek like me, you probably subscribe to RSS feed and all that awesomeness. If you're a super-fly geek-a-zoid you may be into this little application called Snackr.
Currently in version 0.33, Snackr is a sweet Adobe Air application, originally featured on Lifehacker, that puts a RSS ticker on your computer where ever you want... like, seriously where ever you want. It's awesome.
I originally saw the article on Lifehacker in my Google Reader and was instantly interested in trying out this program. Given that I was at work, I was using a second monitor and the awesome part of this program was that it detected my second monitor and allowed me to choose which screen displayed the program. And as I mentioned, I was using Google Reader, so I easily exported an OPML file and imported right into Snackr with no problem.
And here's my run down:
Likes:
Adobe Air aka Cross platform goodness
Multiple screen support
Easily add/import/export RSS feeds
Pretty as hell (Adobe Air pretty much guarantees this)
Amazing looking previews for each item scrolling
Dislikes:
A HUGE CPU eater... I'm talking 28% of my processor (I'm on a 2.4GHz Core 2 Duo MacBook with 2GB of RAM)
No size adjustment when it comes to height/width (depending on where you have it placed)
As you can see, the only real downside is this application's CPU chomping, but I'm guessing with future versions, the hunger for power will be vastly downsized and Snackr will probably become a very worthwhile application.
Here's a screenshot from their site. And another.
What I'd like to see is a very small, one line per feed version that ran in 12pt font at the top or bottom of your screen for minimal distraction and space consumption... but that's just my wishing. (Check their wishlist... crazy...)