Perusing the internet from the moment I wake up until minutes before I've laid my head to rest at night has been a habit of mine for the last... five years I would say. Not to say I can't survive without doing this, rather I just happen to do it all the damn time.
This has lead me to believe that a form of "internet addiction" is directly related to my ridiculous sleep schedule. Currently, I'm trying to find ways to curb this "addiction," but I haven't come up with any good ideas yet.
It's December 30, 2009.
At 7:58am.
I've only been up since 7pm yesterday. Should I sleep? Maybe. We'll see.
Anyways.
This year's been a good one I'd say. I've had some fuck ups, some mistakes and some misfortunes. I've had some awesome times, made new friends, and have smiled more than I have in a long, long while. Lots of shit has gone down.
What to say for the first decade of the millennium? Not too shabby. I'm apart of that generation who came from 28K internet to 2Mbs internet. We've seen the birth of mass video streaming (ie. YouTube) and Twitter and MySpace. Comic books almost died and somehow made their way back to being amazing. We grew up with BitTorrent and the smart phone. We've created a new style and form of speak (I'm talking about 1337 and lol's and such). We've made phone conversation's pointless. We made being smart a cool thing and being geeky a thing of fashion. We made Digg and Facebook and Reddit and Twitter the way to get news. We made Google. We made LOLcats. We made 4chan. We made Photoshop a regular thing. We made sci-fi even cooler than it already was. We turned the year long trend into the week long trend. We made over communication a daily routine. We made the music industry cry and distributed petabytes of information in the blink of an eye. We've done this and more than I can think of, yet we've only just begun to grow up. It's been a crazy 10 years to say the least*.
Me personally... well, I'll say this decade has had it's fun. More than I can remember and some I'd like to forget. Next year only brings more complicated and fantastic parts of life: growing up, prospects of graduating college, being with my (new and fantastic) girlfriend, Katherine, more D&D, more comic books, more hobbies and habits and emotions. We'll see how it goes.
As I do every year since, well, probably 2005 or so, I don't plan on setting resolutions. I feel no need to. There's no sense in setting goals for the year to come that will most likely not flourish. I'll set them as they come as I always do.
I can hope though.
I can hope for a dream job, good times with friends, good drinks and stories and jokes. For survival and laughs. For good thinking and good travel. For good fortune and good luck. I can hope for all sorts of things, and I will every day.
But all and all, 2009 was a good year. I tip my hat to it and to the rest of the first decade of the millennium. It's been fun.
* yes everything there is nerdy/tech related but that's me and that's what I know...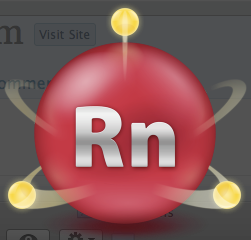 Got word on a new browser from someone on twitter... I don't follow them, but Dallas does and I happened to glance at her computer as she was on Twitter and saw he/she mentioned it... so sorry for not giving credit...
Nevertheless, Radon is a Mac-only browser from Tominated Software and let me tell you: it's pretty cool.
I'm using the browser now and it's pretty sweet. Everything I need loads: GMail (HTML view only :( ), Google Reader, Google Calendar (talk about amazing), Demonoid, IMDB, Wikipedia, Google. But the real  awesome part of this browser is that it's über fast. SUPER fast. Awesome fast. I'm talking faster than any browser you put it against. And really, it loads images quickly, Javascript and everything your average user would need.
Except Flash. 
There is no flash support in this browser at all. And for me, that's a small problem. I read sites like io9, Lifehacker, Gizmodo, TUAW and all sorts of other blogs/news sites and what sucks is that a lot of the time, these sites feature a video on YouTube or Vimeo or some other flash-video site and, what do you know, it doesn't load in this browser. Let me also mention, there is no tab support (a kind of must for me, but I can deal), no password manager, no ability to upload(like in a form) /or ownload files via HTTP (I'll explain in a second) and no bookmarks.. at all. It's pretty damn basic, but all for the speed. 
But that aside, Radon owns kicks ass. Like, I seriously dig it. I'll probably be using it a lot in the future and I'm glad I found out about it. I can live without Flash and if I absolutely NEED it I can pop open Firefox/Safari and hit whatever video I need.
As I said, there is no HTTP downloader, BUT you can still download files. There is an extra add-on built in called Krypton that lets you download files if you hit the file (which will look like jarbled junk) you can download by using Krypton and things will simply download OR you can provide a url and Krypton will download it. Annoying? yes, but it's all for the speed (and it's an independent browser)
Also, there is an add-on built in called Techtanium that creates a mini browser window and, for some reason, searches JUST YouTube... but you can't watch the video... I couldn't really figure out the use for this. I'll make sure to blog again in the future if I figure things out. It could be for future improvements(?).
For now, I'll be using Radon exclusively until I run into some unforseen problem. And really going from Radon to Firefox, you can see how heavy of a browser Firefox really is... Also, I'll wait for the official Firefox 3 and see what's what.
Yes ladies and gents, it is true. My obsession with t-shirts is nearly out of control.
Nearly.
With websites like shirt.woot.com and uneetee.com, I can't help but find myself dumping dollar after dollar into cool looking t-shirts whenever I see them and as soon as I can type in my login info and press checkout. It's insane.
My recent purchases:
Random Shirt from shirt.woot.com
HUGE TYPE LOOKS SWEET from turnnocturnal.com
Random Shirt from shirt.woot.com
World Circuit from uneetee.com
Image Perfection from uneetee.com
I'm on a roll in 3 months. It's crazy. What will I do?
WHAT WILL I DO?!
(probably buy another shirt)
My thing is, I like what shirts say and I believe I should be able to share that with the non-internet obsessed world. Is that so wrong? It's a crazy thing though. I go day-to-day wearing the same get-up: Pants/Shorts, Socks, Boxers, my Vans, and a t-shirt. Every day. The same (with 1 or 2 exceptions of course) get-up and I have no problem with that. Oh, and don't forget the 1/3 of the time hoodie add-on.
'Tis a sick sad world I live, but I like it enough to keep it going.
Just wanted to let you in on that.
-Mike
PS. If anyone would like to buy me a t-shirt or something, I like these shirts.