My name is Mike Rapin. I'm twenty-two years old, living in Allendale, Michigan. I attend Grand Valley State University and am in the (final) process of gaining a degree in Computer Science with a minor in Information Technology.
I currently work part-time for GVSU's Office of Student Life as their Student Technology Manager and am a freelance web developer. I am also the Web Design intern for West Michigan's PBS/NPR affiliate, WGVU. For free/cheap, I assist my friends and/or anyone who comes to me with computer issues.
I am the president of the Comic Book Club of Grand Valley and the New Media Director of GVSU's student-run television station, GVTV. Both are elected positions I have held for over two school semesters.
I run and co-own a website, DestroyTheCyb.org!, that posts reviews of comic books, movies, and music. As co-owner, I have been in charge of editing, advertisement, designing, and maintaining the site and it's content as well as hiring and keeping in contact with writers. As a site, we have been featured as small press at the San Diego Comic Convention.
I have written two television shows for GVTV, Jeff & Mike Write A Comic Book and mat42dr, as well as a handful of sketches for the GVTV sketch-show Randomish!. I have directed a sketch on Randomish! ("Joe is sad"), starred in four episodes of Jeff & Mike, and have directed seven episode of mat42dr--with plans to direct nine of the eleven (possibly twelve) episodes that remain.
As a writer, I have participated in NaNoWriMo, Script Frenzy, 52-52, and have written my own zine. I am currently working on a new issue of my zine that should be released sometime this month.
I read comics like a fiend. Marvel and Image, for the most part--any X-Men, Invincible, Walking Dead.
I am an strong user of social media websites, particularly Twitter (@mikerapin), Tumblr (tumblr.mikerapin), foursquare, instagram, reddit, and facebook (mikerapin). I am most easily reached on Twitter.
I am a Mac user, and I currently run 10.7.1 Lion on my black Macbook (circa 2008). As a web developer, I use Coda and the OS X Terminal for any and all programming. Image editing is normally done by me in Adobe Photoshop CS5.5. I manage the music I have through iTunes, with Bowtie as an assistant. I use Dropbox on a daily basis, and the official Twitter application as well. I check my e-mail through Sparrow and launch application with Alfred. For writing (zine/non-scripts), I use the Mac OS X application TextEdit (in plain-text mode), and Celtx for scripts.
I own an iPhone 4 running the iOS 5 beta 7. I update the twittersphere using Tweetbot, check into foursquare with the official foursquare app (occasionally EightBit or Forecast), post to Tumblr with the official Tumblr app, IM others with the imo.im app, chat Facebook friends with the official Messenger app, and post what I'm listening to using TweetMusic and/or soundtracking. I use CarTunes to listen to music when driving, manage files with Dropbox, edit scripts with Celtx, read books with iBooks, check my bills with Pageonce, stream music through 8tracks/DropTunes/Audiogalaxy, picture myself using Everyday, receive periodic notifications with Prowl and Boxcar, edit and take pictures with Camera+ and Instagram, take notes with PlainText, control my computer with HippoRemote LITE and MochaVNC, and manage my calendar with Week Cal. Occassionally, I play DropZap 2 and Words With Friends.
I can be contacted through e-mail at rapin.michael@gmail.com.
Well, it's that time of year again; time for me to be the big man and head up the Apples & Oranges group for GVSU. Apples & Oranges, in case you didn't know, is the Apple User Group for Grand Valley which I am president of.
Last night we had our first meeting and it was pretty good. I bought some ice cream chips and pop and at about 8:45pm, I ended up at the meeting. The usual suspects (ie. Nick, Rob and Beckey) showed up with probably 10 more new people along with our advisor, Eric. Jeff, my house-mate was there for the free food and pop, and Dallas and Samantha showed up for a moment. From how I saw it, it was actually a pretty damn good turn out. I got e-mails from two or three other people who wanted to be there but were either busy or just forgot, so I see that as a good sign for next week's meeting.
This week, I kind of stood around like a professor and tried to help people with their Apple issues by talking them through the process. We got onto som crazy topics like torrents, converting movies for your iPod and ripping music from your iPod (specifically the iPod Touch, ugh). Nick and Rob had comments here and there and by the end I was sitting down trying to fix Mail problems which sucked (I absolutely hate Mail).
Outside of having no structure and me not having my damn mini-DVI to VGA adapter to show people how to do things on the projector, it was a pretty good meeting. Next week I'll have to take a more commanding lead and keep the discussions focused. We drifted a lot.. but I'm not going to go further than that. As I said, next week will have to be more focused.
I have plans to show off how to rip music off of your iPod (specifically the iTouch, but also any other iPod) as well as maybe showing how to transfer your iTunes library. Nick wanted to show off Transmission and how to use BitTorrent so we may have 2 mini-meetings going on. After next week I want to definitely show people how to use Handbrake and iSquint, then maybe one day I'll show off the greatness that is Quicksilver. All in good time though.
Here's to hoping next week is just as successful as this week.
I'm a total wallpaper whore. Seriously. I have nearly 1GB of wallpapers (766MB) and I need them to work with my MacBook completely. In order to scale a mass amount of wallpapers at a time, I was trying all sorts of methods to do so... Photoshop, Automator, Skitch, and a few other programs until I ran across some information almost a year and a half ago about the Image modifying tools built into Mac OS X. After some reading up on some AppleScript how-tos and browsing some forums I started to work on my original imageresize.scpt and for a while it worked for me.
The original concept was to just scale the images and move the original files to the trash then have me move the modified files to my wallpaper folder, and it did just that, plan and simple. But given my need to make things more and more complicated to make life easier and less complicated I decided to take my AppleScripting to the next level.
What my AppleScript now does is scales the images you drag onto it, moves them to a specific folder based on the month (I seriously have a ton of wallpapers and need to sort them by month...), then moves the original image to another folder. From how I see it, I may want the original image at some point...
To get things set up, download one of the two versions below (or copy the source, it's up to you), and then drag your pictures you wish to resize to the .app version of the imageresize/imageresize-original script and it will do the rest (as I described above).
So, given how happy I am with my new AppleScript, I thought I'd offer it to everyone... hell, I'll even offer my original AppleScript for those who just want to scale an image and delete the original.
--
Source of imageresize <- the new one that moves files and such
Download imageresize.app and imageresize.scpt as a ZIP

--
Source of imageresize-original <- the old one that deletes the original file and such
Download imageresize-original.app and imageresize.scpt as ZIP
--
I hope you can enjoy and find as much of use of these AppleScripts as I do...
Let me know what you think or if you have any questions in the comments!
-Mike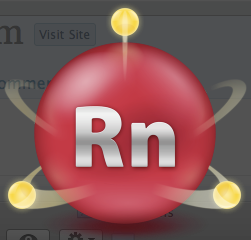 Got word on a new browser from someone on twitter... I don't follow them, but Dallas does and I happened to glance at her computer as she was on Twitter and saw he/she mentioned it... so sorry for not giving credit...
Nevertheless, Radon is a Mac-only browser from Tominated Software and let me tell you: it's pretty cool.
I'm using the browser now and it's pretty sweet. Everything I need loads: GMail (HTML view only :( ), Google Reader, Google Calendar (talk about amazing), Demonoid, IMDB, Wikipedia, Google. But the real  awesome part of this browser is that it's über fast. SUPER fast. Awesome fast. I'm talking faster than any browser you put it against. And really, it loads images quickly, Javascript and everything your average user would need.
Except Flash. 
There is no flash support in this browser at all. And for me, that's a small problem. I read sites like io9, Lifehacker, Gizmodo, TUAW and all sorts of other blogs/news sites and what sucks is that a lot of the time, these sites feature a video on YouTube or Vimeo or some other flash-video site and, what do you know, it doesn't load in this browser. Let me also mention, there is no tab support (a kind of must for me, but I can deal), no password manager, no ability to upload(like in a form) /or ownload files via HTTP (I'll explain in a second) and no bookmarks.. at all. It's pretty damn basic, but all for the speed. 
But that aside, Radon owns kicks ass. Like, I seriously dig it. I'll probably be using it a lot in the future and I'm glad I found out about it. I can live without Flash and if I absolutely NEED it I can pop open Firefox/Safari and hit whatever video I need.
As I said, there is no HTTP downloader, BUT you can still download files. There is an extra add-on built in called Krypton that lets you download files if you hit the file (which will look like jarbled junk) you can download by using Krypton and things will simply download OR you can provide a url and Krypton will download it. Annoying? yes, but it's all for the speed (and it's an independent browser)
Also, there is an add-on built in called Techtanium that creates a mini browser window and, for some reason, searches JUST YouTube... but you can't watch the video... I couldn't really figure out the use for this. I'll make sure to blog again in the future if I figure things out. It could be for future improvements(?).
For now, I'll be using Radon exclusively until I run into some unforseen problem. And really going from Radon to Firefox, you can see how heavy of a browser Firefox really is... Also, I'll wait for the official Firefox 3 and see what's what.
Given I am a web geek, I know the importance having a good password when it comes to sites like PayPal, eBay, Facebook, etc. all for the sake of not wanting my shit to get stolen, but every now and again I find myself doing something really stupid: beginning to type my password as soon as I see a dialog box asking for my password.
Now, if you didn't know, I use a Mac and like any Mac user I have a Keychain which holds all of my passwords for applications and such, easing my mind as I don't have to remember all of my amazing passwords for various sites and applications (which I usually end up remembering anyways). The thing about having a Keychain is that occasionally (or very often in my case) you are prompted by applications like Dreamweaver or Cyberduck to 'unlock' your keychain to grant access temporarily to the application to use a stored username/password of some sort. My problem is that when those dialog boxes pop up asking for my password, I sometimes don't think and just start typing my password no matter what application I'm currently using.
And that's the problem. A lot of the time I'm using applications like Adium, Dreamweaver, Twitterrific or some other application that has a text field to which I can type and once in a strange while I'll see a prompt for my password and just start typing. Given that I'm such an awesome typist, I usually fly through my password in a snap and just slam on the return key and what do you know, my password just got sent in an IM or just got sent to Twitter (dear Christmas that could be bad) or I just typed my password right on my screen for all at work to see. It's a (possible) nightmare.
See, I've done this twice now. You can ask my friend Nate. I've sent him two different and equally secure and awesome passwords. He's a pal of mine, but for the sake of security I had to change my password... twice.
Now, I have to ask: Has anyone out there had any mishaps or horror-based stories invovlving their password(s)?
Given that the MacBook Air was released on Tuesday and the fact that I am in need of a new computer sometime in the next 6 months--I've had my current MacBook for a year and a half--I am focusing myeslf on finding a new Mac for myself. I'm 89% sure I want to go portable, so an iMac, Mac mini and Mac Pro are definitely out of the question (seriously what sane-person needs a Mac Pro?).
Just for the record, here are my MacBook's specifications:
80GB HDD
1GB RAM
2GHz Intel Core Duo
13.3" screen
1 Firewire Port, 2 USB ports, 1 ethernet port
Integrated graphics
So it comes down to to three choices:
MacBook
MacBook Pro
MacBook Air
For my own sake, I'm going to simply list the pros and cons of each machine:
So, as I go along this week I'm going to update this post with my likes and dislikes of Leopard. Here's my initial list:
Likes:
1. The look of the default Mac Installer program
2. Stacks
3. The amazingly smartness of Spaces
4. Being able to see/modify Expose.app, Front Row.app, and a bunch of those previously hidden applications from my Applications folder.
5. Stacks
6. The fact that all of my applications (so far) work flawlessly
7. The new icons for my network drives and for my Time Machine drive
8. Tons of minor, yet noticable changes in the OS throughout the Finder
9. Menubar transparency.
10. How easy it is to run Time Machine... seriously, it's so easy.
11. Stacks
12. My MacBook runs SUPER cool.
Dislikes:
1. After installing the Adobe CS3 suite that my .torrent files didn't initially open in Transmission, but intstead in Opera which was hidden inside of Adobe bridge (not necessarily Leopard, but I thought I would let you in on that weird deal)
2. Not being able to unmount my external drives because they are in use (I did turn off Time Machine, don't worry. It has to be something other than that.
3. First app not to work for me: MagiCal. Kind of pissed...
As I said, I'll add more as more comes (and as I have more free time and less homework.)
-Mike