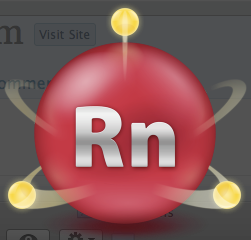 Got word on a new browser from someone on twitter... I don't follow them, but Dallas does and I happened to glance at her computer as she was on Twitter and saw he/she mentioned it... so sorry for not giving credit...
Nevertheless, Radon is a Mac-only browser from Tominated Software and let me tell you: it's pretty cool.
I'm using the browser now and it's pretty sweet. Everything I need loads: GMail (HTML view only :( ), Google Reader, Google Calendar (talk about amazing), Demonoid, IMDB, Wikipedia, Google. But the real  awesome part of this browser is that it's über fast. SUPER fast. Awesome fast. I'm talking faster than any browser you put it against. And really, it loads images quickly, Javascript and everything your average user would need.
Except Flash. 
There is no flash support in this browser at all. And for me, that's a small problem. I read sites like io9, Lifehacker, Gizmodo, TUAW and all sorts of other blogs/news sites and what sucks is that a lot of the time, these sites feature a video on YouTube or Vimeo or some other flash-video site and, what do you know, it doesn't load in this browser. Let me also mention, there is no tab support (a kind of must for me, but I can deal), no password manager, no ability to upload(like in a form) /or ownload files via HTTP (I'll explain in a second) and no bookmarks.. at all. It's pretty damn basic, but all for the speed. 
But that aside, Radon owns kicks ass. Like, I seriously dig it. I'll probably be using it a lot in the future and I'm glad I found out about it. I can live without Flash and if I absolutely NEED it I can pop open Firefox/Safari and hit whatever video I need.
As I said, there is no HTTP downloader, BUT you can still download files. There is an extra add-on built in called Krypton that lets you download files if you hit the file (which will look like jarbled junk) you can download by using Krypton and things will simply download OR you can provide a url and Krypton will download it. Annoying? yes, but it's all for the speed (and it's an independent browser)
Also, there is an add-on built in called Techtanium that creates a mini browser window and, for some reason, searches JUST YouTube... but you can't watch the video... I couldn't really figure out the use for this. I'll make sure to blog again in the future if I figure things out. It could be for future improvements(?).
For now, I'll be using Radon exclusively until I run into some unforseen problem. And really going from Radon to Firefox, you can see how heavy of a browser Firefox really is... Also, I'll wait for the official Firefox 3 and see what's what.